2022-23 Season
Want to curl this year? So do we. Let's see if we still have enough people for a league, by signing up here: Register here!
Here is a quick summary of GUSL's 2022-23 season:
Location: The Granite Curling Club (8620-107 Street, Edmonton, AB)
Draws and timing: Sunday evenings around 6 pm (schedules are posted in advance). The season will consist of games + learn-to-curl / practice clinics. First game would be October 16, 2022.
Cost: ~$275/person. 
Teammates: If you have a full team, GREAT! If you're by yourself or looking for some help completing your foursome, you can sign up as an individual, couple, or threesome and we'll do our best to match you up with some awesome people!
Pre-season Game: October 16, 2022 at 6 pm 
First Game: October 23, 2022 at 6 pm 
What's included: Your membership fees also cover free practice ice, access to free rental equipment (if required), GUSL-members-only events, and chances to win the double takeout board (i.e., free beer).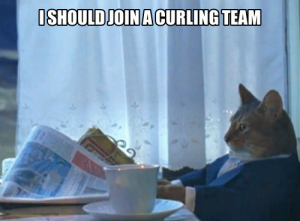 A reminder that the third of the winning team is responsible for emailing curl@gusl.ca with game scores.
[DISPLAY_ULTIMATE_SOCIAL_ICONS]