2020-21 Season
Registration is available for play starting October 24th, 2021! Register here!
Here is a quick summary of GUSL's 2021-22 season:
Safety: To ensure the safety of curlers, the following precautions are in place:

All curlers will be required to show proof of double vaccination in order to enter the rink!
Masking is required at all times, except when on the ice or seated at a table in the lounge. Masking is recommended when on the ice.
Hand sanitizer is available and recommended.
Games will be spaced out across the ice to provide maximum distancing between teams.

Location: The Granite Curling Club (8620-107 Street, Edmonton, AB)
Draws and timing: Sunday evenings around 6 pm (schedules are posted in advance). The season will consist of games + learn-to-curl / practice clinics. First game is October 24, 2021.
Cost: $250/person to a maximum of $1,000/team plus a $13 per-curler fee from Curling Alberta*. The team fee is based on a standard team of 4 curlers, but you can sign up more players if you have a couple of players sharing a position, and share costs among them (after all, sharing is caring). Fees can be paid by cheque, cash or e-transfer sent to curl@gusl.ca.

*The Curling Alberta fee applies to each individual curler in Alberta. If you are curling at more than one location or more than one league, you only have to pay this once. We will waive the $13 fee if you demonstrate you've paid it elsewhere already.

Teammates: If you have a full team, GREAT! If you're by yourself or looking for some help completing your foursome, you can sign up as an individual, couple, or threesome and we'll do our best to match you up with some awesome people!
Learn to Curl Night: October 17, 2021 at 7pm
Pre-season Game: October 24, 2021 at 6 pm 
First Game: October 31, 2021 at 6 pm 
What's included: Your membership fees also cover free practice ice, access to free rental equipment (if required), GUSL-members-only events, and chances to win the double takeout board (i.e., free beer).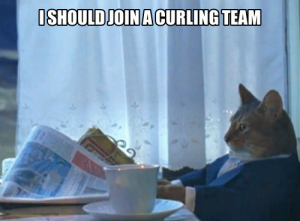 A reminder that the third of the winning team is responsible for emailing curl@gusl.ca with game scores.